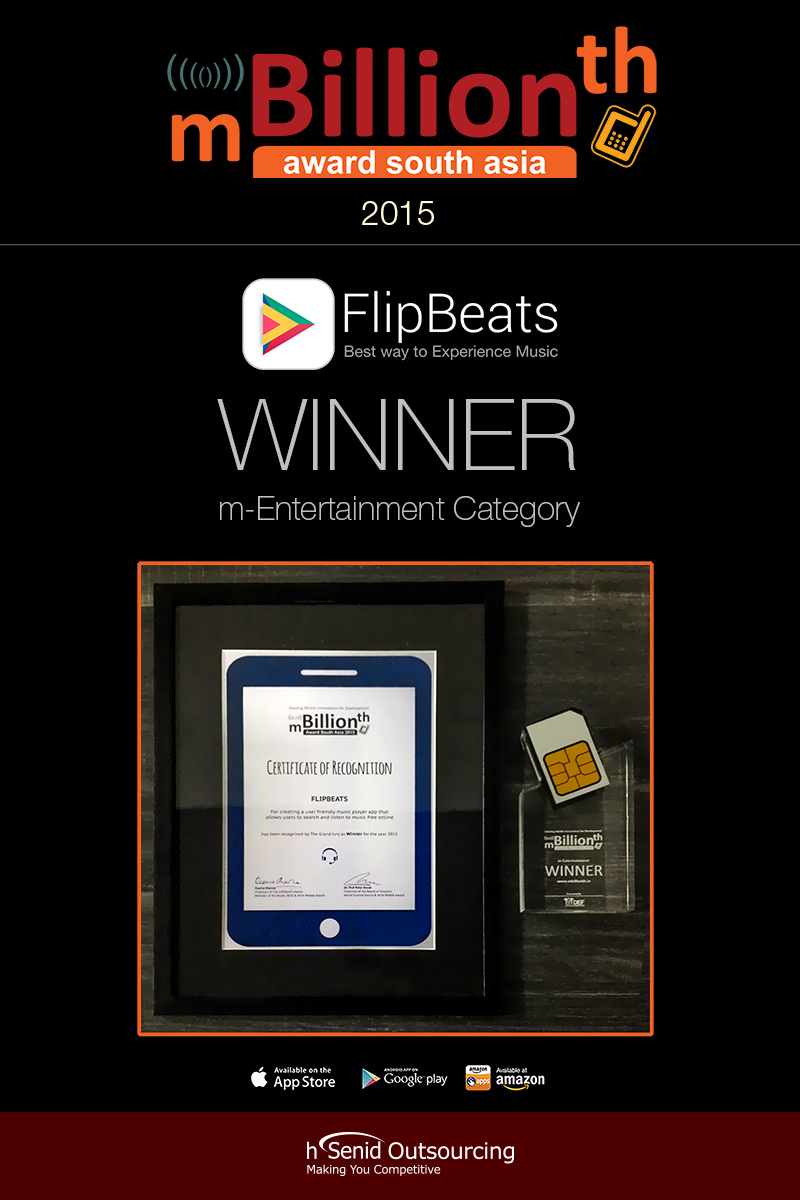 FlipBeats, a customized, professional music app by hSenid Outsourcing won top honours at the mBillionth Awards 2015 held in New Delhi, India recently. FlipBeats won this award under the Media and Entertainment category, beating several international peers.
mBillionth Awards is an industry‐driven and peer‐acknowledged event that recognises the best is South Asia's mobile and telecom market in terms of penetration and innovation.
Mr. Sachi Wickramage, Head of hSenid Outsourcing said, "Mobile platforms are becoming the natural choice for smashing the information barrier. We have penetrated this space with this innovative digital service to the broadest section of the population by giving them a platform where they can actually touch, visualize, engage and socialize with their music.
FlipBeats is simple to use and extremely user-friendly. Currently ranked as one of the Best Music Player Apps, FlipBeats has a huge fan base, with favourable reviews in internationally respected websites such as Engadget, LifeHacker and AndroidGuys. The app is unique, intuitive and customizable with the most advanced audio configuration to create a studio-like listening experience. The app runs on all Android and iOS devices including the Apple Watch.
Additionally, the app's smart energy saving mode "Black Edition" for Android reduces 75% of the device's power consumption by turning a majority of the display pixels off, yet creating a stunning visual effect with contracting colors. It is powered with special ergonomic features such as "Sound Health Profile and comes in six different languages".
Dinesh Saparamadu, Chairman of hSenid Group said, "We have added another trophy to our growing collection of awards for FlipBeats. This is not end. We are adding many more features to this amazing app.
Flipbeats has won several local and regional awards in the past year including Best App of the Year at the eSwabhimani Awards 2014, Finalist at Asia Pacific ICT Alliance 2014, and several awards at BCS National Best Quality Software Awards 2014.
Daily Newspapers featured Achievements by FlipBeats:
NETWORKEDINDIA:
AdaDerana:
Daily FT:
Lanka Business News:
Daily News:
The Island:
Daily Mirror: