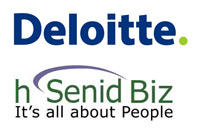 hSenid Business
Solutions in collaboration with Deloitte Consulting would conduct a exclusive evening on' Succession Management - A critical success factor for business sustainability' by Mario Ferraro, Director and Practice Leader of Deloitte consulting in Southeast Asia.
It will then be followed by a panel discussion with Dr Ajantha Dharmasiri.
The event will be held on October 23, 2013 at Jaic Hilton, Colombo from 7.30 am to 10 am.
It is a strategic process that minimizes leadership gaps for critical positions and provides opportunities for top talent to develop the skills necessary for future roles.
In this current economic environment, the need to identify and develop top talent for critical roles has never been more important, as growth and sustainability are heavily dependent on identifying and preparing the next generation of leaders.
Source:www.dailynews.lk