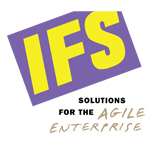 The Sri Lankan organizations have long been deprived of access to the core application product directly from the source.
hSenid recognised internationally as a successful HR service provider has been instrumental in providing a centralised view of the customer's most important resource of all – man power. By improving the efficiency of the management through the automation of all processes has led them into a less cumbersome paperless environment.
The winning alliance promises to bring a global perspective to the local industry with a comprehensive integrated solution, which the customer is able to access without any third party interference. The availability of the same support provided to the world's multinational giants will be extended to our growing local counterparts. This fusion is expected to raise levels of competency of the customers' to aspire for greater heights.
With the aspect of Human Resource Solutions provided through hSenid, other facets such as Manufacturing, Financials, and Distributions will be furnished by IFS Sri Lanka.
By providing one solution which incorporates the experience and domain expertise of both hSenid and IFS, the truly gratifying outcome is the inevitable promotion of Sri Lankan skills within Sri Lanka, the region and ultimately the rest of the world.
Objectives of the partnership
• To take advantage of both organization's presence in Sri Lanka and offer businesses the core application product from the source, which would be implemented by the very owners of its world known applications. This would help the businesses to get an agile solution right from the source that would enhance the ROI.
• To promote Sri Lankan skills within Sri Lanka and to the region by offering a total solutions package of global standard, which has been developed in Sri Lanka.
• To provide one solution incorporating the experience and domain expertise of both IFS and hSenid.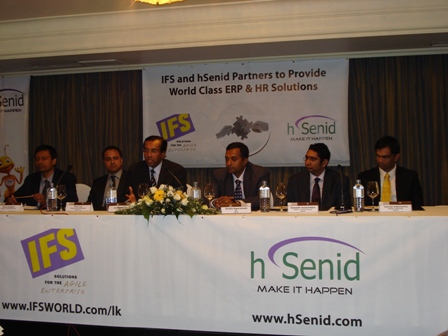 (From left: Poorna Bandara – Manager Consulting - IFS, Shiraz Lye – Manager Sales and Marketing South Asia - IFS, Jayantha De Silva - Vice President South Asia - IFS, Dinesh Saparamadu - CEO hSenid, Sampath Jayasundara – Director / General Manager - hSenid, Gayanga Alagiyawanna - Manager Engineering - hSenid)
About hSenid
hSenid is a true Sri Lankan multinational which is dedicated in taking Sri Lankan IT solutions to the world with offices in United States, Singapore, India and R&D centers in Sri Lanka & Malaysia. Founded in 1997 with the aim of supplying high quality software products and services to its customer's world wide hSenid is currently celebrating its 11th year in operation and expanding into new markets each year. hSenid stand tall as the number 1 Human Resource Solution Provider in Sri Lanka with a customer base of over 450 organizations spanning all industries which uses hSenid HR Solutions to manage their most valuable asset, it's people. hSenid's edge over other solutions in the market is mainly due to the dedicated R&D team which incorporates words best HR practices and user friendly functionality into the solutions which in turn brings immense value and benefits to it's customers. The HRIS solution is built to take care of employees from recruitment till retirement while providing the management with rich analysis reports to help manage them in an effective and timely manner.
With a staff of over 200 skilled engineers worldwide serving customers in Sri Lanka, India, USA, Kenya, Tanzania, Singapore, Brunei, Ireland, Malaysia and Indonesia hSenid strives to provide best of breed HR solutions to it's customers around the world.
About IFS
IFS, the global enterprise applications company, provides solutions which enable organizations to respond quickly to market changes - allowing resources to be used in a more agile way to achieve better business performance and competitive advantage.
IFS was founded in 1983 and now has 2,600 employees worldwide. IFS has pioneered component-based ERP software with IFS Applications, now in its seventh generation. IFS' component architecture provides solutions that are easier to implement, run and upgrade. IFS Applications is available in 54 countries in 22 languages.
IFS has over 600,000 users across seven key vertical sectors: aerospace & defense; automotive; high-tech; industrial manufacturing; process industries; construction, service & facilities management and utilities & telecom. IFS Applications provides extended ERP functionality including customer relationship management (CRM), supply chain management (SCM), product lifecycle management (PLM), corporate performance management (CPM), enterprise asset management (EAM) and maintenance repair and overhaul (MRO) capabilities.
IFS has its largest R & D centre in Colombo with above 650 staff supporting clients globally. Apart from the R & D operations, IFS Sri Lanka markets its Enterprise Resource Planning (ERP) solutions in South Asia from the regional Sales & Marketing office in Colombo. It has more than 20 customers, with over 2000 users in Sri Lanka, Bangladesh, Pakistan and in Thailand.