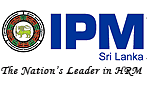 hSenid Software International, the Principal Sponsors of the Pre Conference at the National HR Conference 2008 hSenid Business Solutions is the No. 1 HRIS solutions provider in Sri Lanka. hSenid is proud to have been the Principal Sponsor of the Pre Conference at the National HR Conference and Service Providers Exhibition 2008, for the 2nd consecutive year. The conference was organized by the Institute of Personal Management (IPM) and took place on the 2nd and 3rd of June at BMICH. hSenid and IPM have maintained an extremely cordial and close relationship over the years and has supported the institute whilst also taking part in all events organized.
The National HR Conference which is held annually has become the premier HR event for knowledge sharing between the crème of HR professionals in Sri Lanka. Like the preceding year the conference was based on the theme "People Drive Business". The conference focused on the best HR practices to meet business challenges, HR value creation, meeting the expectations of stakeholders, the importance of HRM and the need to strategize HRM and develop the competencies of its practitioners. The conference together with the "HR Service Providers Exhibition" will create and array of opportunities for both those in the HR industry, and those who have not yet ventured into it.
'We are proud to be the main sponsor in the pre conference for the past consecutive years and we hope this year too will help the HR profession in Sri Lanka to reach new heights' said Sampath Jayasundara Director/ General Manager hSenid Business Solutions.
hSenid is in it's 11th year of excellence and is one of the main exhibitors at the service providers exhibition in booth number 15 & 16 showcasing their award winning HRIS solution as well as a range of new and innovative products and services.
hSenid Business Solutions, the market leader has offered software solutions for more than 500 corporates in the region and continues to expand its presence in the world.
With the growing number of staff strength and with a 24/7 dedicated support centre hSenid stands tall as a Sri Lankan multinational company moving to the global arena as one of the most preferred software solution providers in the world.
(From left: Chandrasiri Hewapattini –Senior Vice President IPM Sri Lanka, Lalith Wijetunge – President IPM Sri Lanka, Sampath Jayasundara – Director/ General Manager hSenid Business Solutions, Suminda Sugathipala – Operations Manager hSenid Business Solutions)
About hSenid Business Solutions
Founded in 1997 with the aim of supplying high quality software products and services to its customer's world wide, has now grown to a 200-person organization with offices in Sri Lanka, Singapore, Malaysia, India and USA making it a truly global organization, serving corporate customers across the world.
Senid services a large customer base in Sri Lanka & overseas and have provided customized solutions to its clients, addressing their wide, varied & specific requirements. For more information, please visit: www.hSenid.com