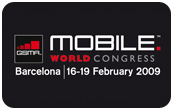 Colombo, 12th February 2009. hSenid Mobile, a leading mobile applications developer in Sri Lanka, will partner with Red Hat, the worlds leading open source technology solutions provider to participate in the largest conference for the mobile industry which is to be held in Barcelona from the 16th – 19th February 2009.
The Mobile World Congress is expected to attract approximately 50,000 attendees, providing the industry leaders with exceptional networking and business opportunities.
The core of hSenid Mobile's product portfolio, mChoice TM, is built around the JBoss Communication Platform (JBCP) which complements the portfolios scalability and extendibility. hSenid Mobiles Telco grade mChoice TM Service Delivery Platform(SDP) coupled with its other cutting-edge Telco solutions, utilizes JBCP to unveil its fullest potential.
"Our aim at hSenid is to provide high end, innovative mobile applications to our customers globally. This event gives us an excellent opportunity to network with industry leaders and broaden our reach to all parts of the world" states Dinesh Saparamadu, CEO, hSenid Mobile Solutions.
hSenid has gained global recognition in providing dynamic wireless applications for Telecommunication Companies and Enterprise markets. Its extensive range of wireless applications includes a Messaging Suite, Financial Suite, and an Enterprise and Telco Suite.
Some of the Key highlighted Products showcased at this year's conference are;
mChoice TM Recharge offers suitable devices to recharge prepaid mobile accounts via ATMs, POS terminals; Internet and SMS/J2ME which easily integrates with any bank to carry out the electronic prepaid reload, thus preventing theft and fraud. It delivers tangible benefits such as the fact that any dealer, sub dealer or retailer could recharge the customer and also enabling the customer to recharge his own account via his bank.
mChoice TM Rewards is a web based middleware, which provides a compelling way to attract new prepaid users while offering services like no other and rewarding them with bonuses. This is a highly scalable and can be customized to suite any existing telco network, which will allow network operators to set up a wide variety of promotion/loyalty/tenure programs and award bonuses/prizes, generate reports and set up a credit expiry reminder service for their subscribers.
mChoice TM SDP is both open and extendable using standard APIs. mChoice SDP is designed to help service and content providers, network operators and systems integrators move from inflexible, 'silo-based networks' to a more modern, service-oriented architecture (SOA).
This enables mobile operators to seamlessly blend emerging technologies with legacy systems, as well as supporting next generation services.
mChoice TM USSD SMS Symbian, is a USSD based solution that provides subscribers a user friendly and cost-effective method of SMS messaging. Contrasting with SMS alone, USSD offers a real-time session oriented service and supports a sequence of exchange of information. The service is advantageous for roaming subscribers as normal SMS charges are much higher in comparison to messaging through USSD transactions. With mChoice USSD-SMS Symbian, network operators can provide fixed roaming charges across all countries.
About hSenid Software International
hSenid Mobile Solutions is a premier Mobile applications developer specializing in dynamic wireless applications and backend integrations (middleware) for Telecommunication Companies and Enterprise markets. The company currently carries out its operations from United States, Singapore and Sri Lanka.
hSenid service a large customer base in Sri Lanka & overseas and have provided customized solutions to its clients, addressing their wide, varied & specific requirements. Due to the multiple interests of their clientele, the company has diversified to provide various products & services addressing different customer requirements, whereby HMS – hSenid Mobile Solutions (specialized unit for mobile applications), HBS – hSenid Business Solutions (Specialized unit for HR / Payroll / Time Attendance & Analytical tools), and BPO – Business Process Outsourcing (handling all outsourcing projects). For more information, please visit:www.hSenid.com.
For More Information
hSenid Software International (Pvt.) Ltd
Anjula Kurukulasuriya
Marketing Specialist
Tel: +94 11 2 446623 / +94 11 2 699 754
E Mail: This email address is being protected from spambots. You need JavaScript enabled to view it.