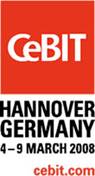 Hannover Germany, 4th March 2008. hSenid Software International, a global software solution provider of Mobile solutions, Human Resource Management Solutions and Software Outsourcing Services visited Hannover Germany to participate at this years CeBIT Conference.
CeBIT is one of the world's largest trade fair showcasing digital IT and telecommunications solutions for home and work environments which offers an international platform for comparing notes on current industry trends, networking, and product presentations.. The key target groups that attend the conference are users from the wholesale/retail sector, skilled trades, banks, the services sector, government agencies, science and all users passionate about technology.
hSenid is proud to announce their presence at Hall 4, Booth A69 at this prestigious event showcasing its Outsourcing capabilities and highlighting their expertise in delivering cost effective applications based on both open source and proprietary platforms for leading Mobile operators and financial enterprises in Americas, Asia, Africa and Europe.
"hSenid has been a true pioneer in the Software market, and we are excited to be participating as exhibitors at this years CeBIT Global Conference & EXPO as this was a great opportunity for us to promote our innovative products". Said Mr. Dinesh Saparamadu, CEO hSenid Software International.
About hSenid Business Solutions
Founded in 1997 with the aim of supplying high quality software products and services to its customer's world wide, has now grown to a 200-person organization with offices in Sri Lanka, Singapore, Malaysia, India and USA making it a truly global organization, serving corporate customers across the world.
hSenid Software International is the premier software solution provider in Sri Lanka, specializing in HRM solutions, mobile applications, eCommerce & Communications solutions. The company has offices in the United States, Malaysia, India, Singapore and R&D centres in Colombo, Sri Lanka.
hSenid services a large customer base in Sri Lanka & overseas and have provided customized solutions to its clients, addressing their wide, varied & specific requirements. For more information, please visit: www.hSenid.com